Who we are
Incorporated in January 2011, Resurgam Trust is a Development Trust.
As a community owned and led organisation, the Trust encompasses the principles of community development, capacity building, community engagement, personal development, trading and ownership of buildings and land to bring about long-term health, social, economic, and environmental change with a focus on reducing inequalities in the City of Lisburn.
With over 1,000 members, including 40 member groups, 6 Community Associations and community programmes as well as 7 social enterprises, the Trust aims to provide employment opportunities, address inequalities in health and education and help to deliver better outcomes for children, young people, and their families.
Our Vision
Connecting People, Transforming Communities
Our Mission
To create a sustainable environment within which all are proud to live, learn, play, and work.
See our strategy
Organisational Structure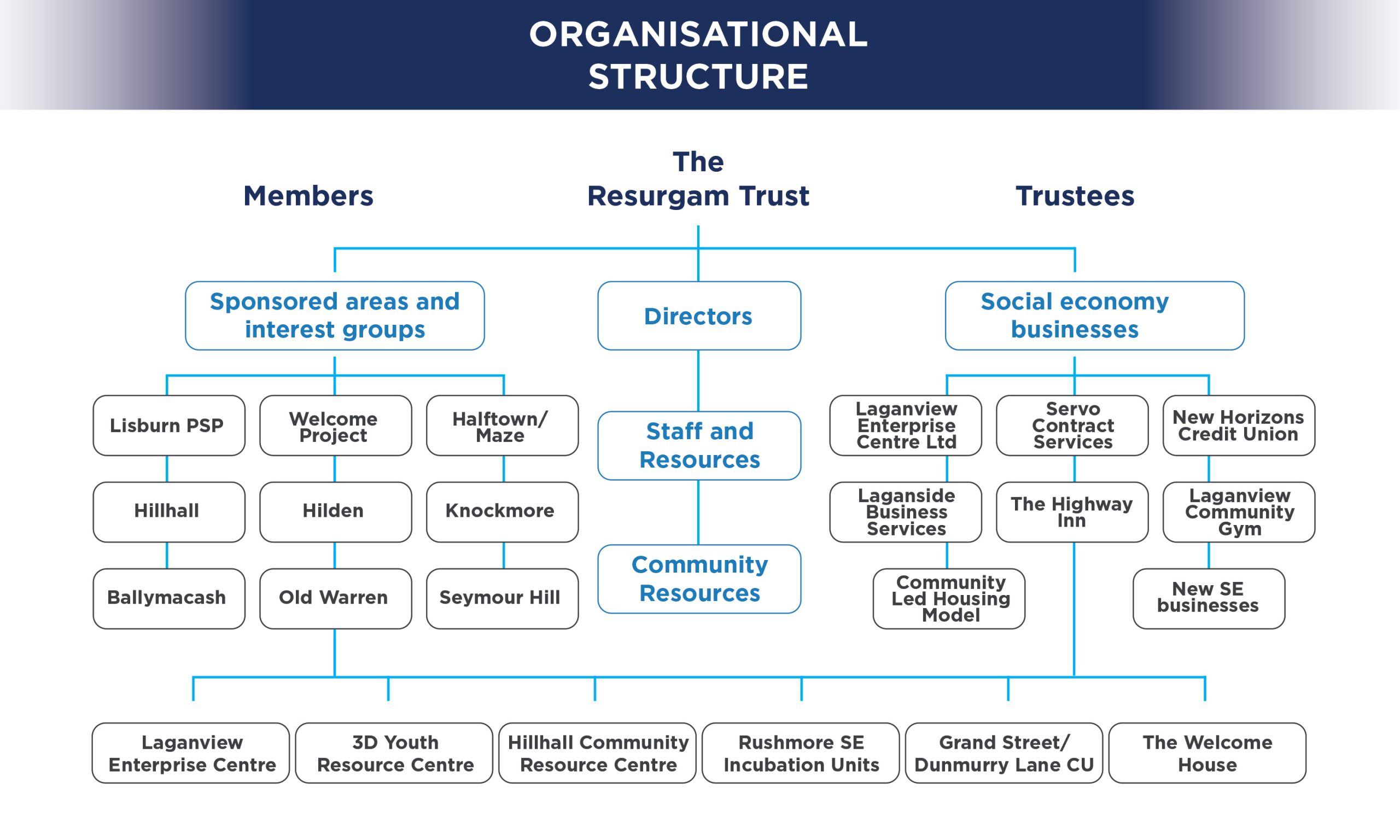 What people are saying…
I have worked closely with the Resurgam Trust since their inception and have been greatly impressed by the positive impact that their various projects and initiatives have had across many communities in the Lisburn area.  Resurgam work right at the heart of the community and they have been hugely successful in bringing various agencies and departments together in joint endeavour to improve the quality of life for local people and enhance the level of provision in housing, education, healthcare and so much more.  The Resurgam Trust offers an effective model of community empowerment and transformation that ought to be replicated across Northern Ireland and beyond.
Jeffrey Donaldson, MP for Lagan Valley
With its aim of, 'connecting individuals and transforming communities', I recognise the Trust's passion and commitment, having worked alongside them for many years. Resurgam's activities span everything from regeneration to early intervention, social enterprise to health – and their team bring positive change to so many lives.
The Right Worshipful The Mayor, Councillor Andrew Gowan
The work that Resurgam Trust do continues to transform and address the pressing and emerging needs of the local and wider community.
The seeds of emerging from conflict and underinvestment today are bringing real change and hope to users and partners of all ages and backgrounds.
The Healthy Living Centre and specifically the recently created "Connected Minds" mental health counselling and early intervention initiative, both created and managed by young people gives me heart that continued change and life affecting support will continue to be core to the Trusts ambition and vision.
Robbie Butler, UUP MLA
Awards
The Queens Award for Voluntary Service 2011 (awarded to our Social Enterprise Lisburn Community Self Build Ltd)
Mayor's Award for Volunteering in the Culture & Diversity Category 2013
IPB All-Island Pride of Place Awards for Enterprise and Youth Projects 2013
Mayor's Award for Young Volunteer of the Year 2014
The Investors in People Standard 2014
NI Enterprise's Social Economy Business of the Year 2014
Best Social Enterprise (Resurgam Trust) Business Award from Lisburn City Business Awards 2015
Community Development Person of the Year from Ulster Star People of the Year Awards 2015
Mayor's Award for Bringing Communities Together 2017
Best Social Enterprise (LaganView Enterprise Centre) Business Award from Lisburn & Castlereagh City Business Awards 2018
Highly Commended Award in the Investment in Health Category at the Lisburn & Castlereagh City Business Awards 2018
Future Leader Award (Our Director Tracey Black) from TWN's WICT Programme 2018
Granted the Queens Award for Voluntary Service 2018
Order of the British Empire (BEM) for services to the community in Lisburn during Covid-19 (Our Highway Inn Manager Emma Robb) 2020
Making a Difference Award (Lisburn SAFE) from Lisburn & Castlereagh City Mayor's Community Awards 2021
Work with us
We have a number of positions available at The Resurgam Trust and with an array of company benefits we could be the right fit for you. See a full list of our opportunities.